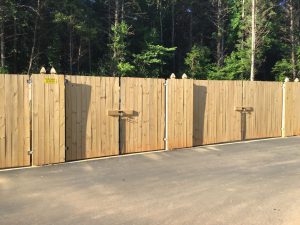 Businesses, industrial properties and commercial buildings typically rely on dumpsters for the disposal of trash. However, a random dumpster is not always an appealing sight. Local zoning codes may require dumpster enclosures. Installing a dumpster enclosure will heighten the overall appeal of your property and protect it from animal intrusion, vandalism and unwanted dumping. Hartsell Brothers Fence Company can install dumpster enclosures of all types on your commercial or industrial property in Greater and Metro Charlotte, NC.
At Hartsell Brothers Fence Company, we can install dumpster enclosures in the size you need using a few different materials. With our years of experience, we will help you decide on the right enclosure for you and your commercial property or business. Here are some of the different materials used: 
Even though dumpsters perform a necessary function, no one really wants to see them. Out of sight is the best practice. A dumpster enclosure made from any type of material does an excellent job of concealing the actual dumpster.
Dumpster Enclosure Design
Adding a dumpster enclosure does not mean you have to add a new structure that won't compliment your building. At Hartsell Brothers Fence Company, we can provide a dumpster enclosure that will appear just as the rest of any other fencing at your location. If you have a white vinyl fence around your property, we can match your dumpster enclosure with the same white vinyl. There is no need to worry about your dumpster enclosure looking out of place.
Durability: Built to Last
Our dumpster enclosures are built to withstand rain, winds and all types of weather. The choice of material is important to consider especially if the enclosure is used on a frequent basis. We can also install concrete bollards around the enclosure to serve as an added form of protection. Bollards can be painted, galvanized, equipped with reflective tape or even covered with a plastic sleeve.
Custom Designed For Your Property
The right design of a dumpster enclosure will keep critters out and keep trash from flying around. There is a lot to consider in this process, which includes using the right latches and hinges, gate size and gate posts. We can put together the right combination for your commercial or industrial property.