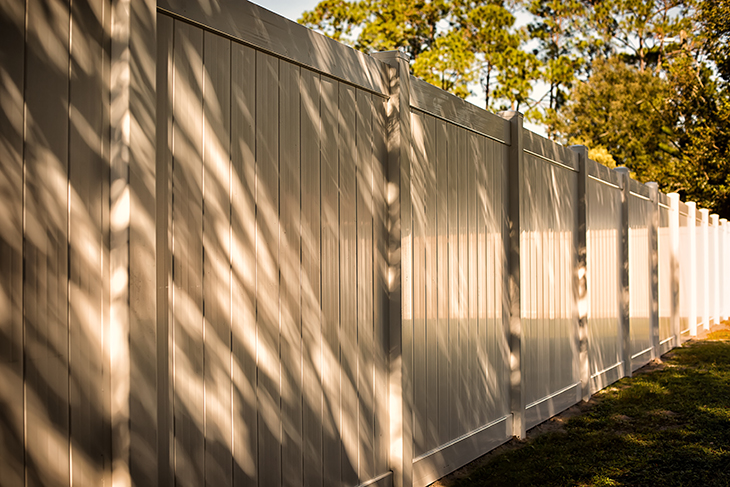 There is a specific function for privacy fencing and over the years, trends have come and gone. Lately, there has been a pair of popular privacy options when it comes to fencing. Vinyl and PVC both have their advantages and here is more on why each one is becoming a preference of commercial property owners all across the country.
Some people may assume that vinyl and PVC are the same, although that is not the case. PVC stands for polyvinyl chloride and the difference from that and vinyl is the addition of chlorine.
First, it is important to understand the function of privacy fences. They are intended to maintain privacy and the advantages of a PVC or vinyl fence are both similar. Neither requires any regular maintenance. They are not going to fade or chip like a wooden fence would. There is also no painting involved. These varieties may be higher in price than some other materials, although they last a long time.
While PVC is a form of vinyl, the types of vinyl used for commercial and residential purposes have their differences. Commercial grade vinyl is thicker and has more ribbing for the purpose of upgrading its strength. And its durability is better because of the higher levels of Titanium Oxide. This also helps withstand UV rays from the sun and prevent discoloration.
When it comes to strength, PVC vinyl is a top choice and that is because it is even stronger than fences that are made of wood. In fact, PVC has about five times more strength than a wooden fence. And in areas where a fence is exposed to saltwater, PVC vinyl holds up year after year without withering.
There is little difference in the aesthetics between PVC and vinyl and there are plenty of choices that will enhance the exterior appeal of your commercial property. It is important to be on the lookout for algae growth as PVC and vinyl fences have been known to accumulate a buildup over the course of time.
Some of the most popular types of PVC and vinyl privacy fences consist of shadowbox and solid designs. White has become the most popular color while tans are beginning to trend as well. If there is the desire to paint the fence, there is no need for a coat of primer. Simply use an acrylic paint color of your choosing.