Not all commercial gates are created the same. There are different choices available for both commercial and industrial applications. Here is a closer look at some of the more popular choices that could be used to front your business.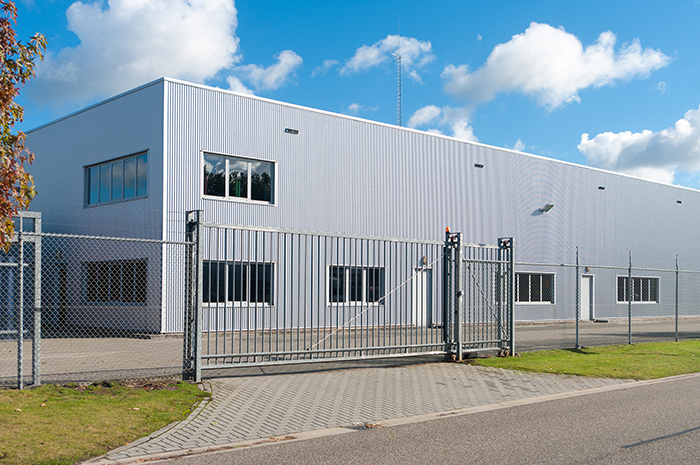 Cantilever Gates
This is a very popular choice as it is a more reliable rolling gate compared to a slide gate. This type of gate differs in that there is no ground track that moves through the use of rollers. Its sideways motion is attributed to mounted rollers that are located on the post. This model is beneficial because there are no ground elements, such as snow or dirt, which would interfere with opening and closing. In areas that are subject to inclement weather, the cantilever gate remains a popular choice.
Swing Gates
This variety is available in heavy-duty styles and mirrors that of a door. However, because it extends so far outward, there is always the risk of an unintended collision at an entrance that may be unsupervised. Swing gates can extend outward to 90 degrees and even as much as 180 degrees. That means an idling car or waiting pedestrian could be at risk. Separate pedestrian entrances are also recommended when installing a wing gate.
Track Gates
This version is not a lot different from a cantilever gate. It typically uses an overhead track, which is a benefit becomes it does away with the need to counterbalance the entire system. This variety also has the advantage of being able to meet the different height and width demands. Security is also helped as these tracks are capable of being operated from a specific security post.
Slide Gates
One of the most commonly used security gates, this variety rolls from left to right or vice versa. It is generally in alignment with a fence and will permit vehicles to enter when opened. The gate moves via wheels located on the bottom side. They normally slide over a groove that is in the shape of a V and are sometimes referred to as a V-Groove. The disadvantage is that elements can obstruct the path of the rollers, which requires maintenance of the area according to the conditions.
Lift Gates
These gates come in vertical and vertical pivot formats. The design is somewhat different, although the premise is to raise the gate so that vehicles can enter underneath of them. These are a great choice when looking to save space as the gate does not need to extend outward or slide horizontally.
If you are interesting in further information about gates for commercial properties in Charlotte NC, feel free to contact Hartsell Brothers Fence Co. To learn more about products and services, visit www.hartsell-fence.com